Cabinet Innovations, Inc
A Custom Cabinet Builder & Designer in Mpls. MN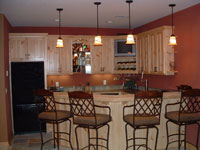 Cabinet Innovations is a custom cabinet builder & designer in Minneapolis, MN. We specialize in custom designed kitchens, wet bars, built-in bookcases, entertainment centers, fireplace surrounds, furniture and other custom wood projects.
All finished projects are created from 100% all-American products, including wood, hardware and decorative ornaments, unless an imported wood is used on your project.
We are centrally located to the heart of Minneapolis and have worked on many projects in the Minneapolis and suburban markets and in the upper Midwest.
When the time is right and you are looking for a custom cabinet builder to create your custom designed kitchen, wet bar, built-in bookcases, entertainment center, fireplace surround, furniture or other custom wood project, please consider Cabinet Innovations.
New home construction or re-modeling your house
New home construction. If you are designing your new home, Cabinet Innovations Inc. will work directly with your builder or you if you decide to be your own general contractor to gather information, provide design ideas, and install your new kitchen cabinets, entertainment center, fireplace surround, bar and other custom designed wood projects.
We have the experience and technical knowledge to work in an expedient and proactive fashion with your builder to ensure that your woodworking projects for your new home is completed when needed on the job site. We work directly with you and your builder to avoid any misinformation between all parties.
Remodeling your house. If you are thinking about remodeling your kitchen, or finishing your basement by adding a new entertainment center and/or a custom designed bar, then you should contact Cabinet Innovations. We will do an free initial consultation with you, and then provide our recommendations for your redesign.
We have helped many people with the design and layout for their remodeling projects. Built in bookcases, re-designed bathroom cabinets, new kitchens and more-we have done it!