Custom Designed Wood Furniture
Desks, End Tables, Coffee Tables, Night Stands & More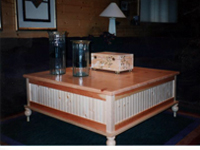 Custom designed wood furniture adds a touch of class and distinction to any room.
Custom designed furniture can include wood desks, wood tables, and other custom designed wood products.
Cabinet Innovations has made numerous wood desks, end tables, coffee tables, night stands and other requested items.
Using various woods and finishes we can try to match your current furniture scheme and add a piece of custom designed wood furniture that compliments your other furniture items.
Furniture Design and Installation
Planning for a new piece of wood furniture.  If you are thinking about a new wood desk or table, take the time to write down why you want it, where it will sit, what you want it to do, etc. This will help us understand your needs so that we can accurately capture what this piece of wood furniture should look like and how it will be used.
Take the time to decide if you want the piece to try to match existing furniture or make it a unique piece. Also think about the finish and what type of usage this piece will get.
Installing your new piece of wood furniture.  If Cabinet Innovations is making a desk for you, after we deliver it we will install the drawers and/or doors. They will be balanced and leveled to ensure that they operated efficiently, and all hardware will be fitted and tightened.
We have helped many people with the design and layout for their custom wood furniture projects. If you are thinking about adding a new custom designed furniture piece you should contact Cabinet Innovations. We would be happy to work with you on your next project.