Custom Designed Entertainment Centers
Cabinet Innovations Designs, Builds & Installs Custom Entertainment Centers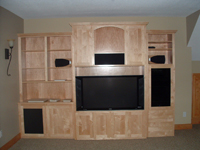 A custom designed entertainment center can add flair to an existing room or be designed to integrate with new construction. Cabinet Innovations has been conceptualizing innovative entertainment center designs for over twenty years now.
We can help you look at existing space and envision a whole new look by adding a custom designed entertainment center. Entertainment centers are designed for housing home theater systems, stereo components, media storage and more.
By understanding your needs and components that will be used in the new entertainment center, we can design a beautiful, efficient and practical solution for your home theater needs.
Entertainment Center Design and Installation
Planning your new entertainment center. Entertainment centers are usually a large project that takes some prior thought in to designing. Different options for the TV alone demand that your intentions are identified up front so we can create an awesome design for you. Is the TV wall mounted or will it be resting on a shelf in the entertainment center. How big is the TV, and what are the power and cable requirements for it.
The same is true for other components such as stereo receivers, satellite or cable boxes, DVD players and more. Other things to consider include door types-open, glass, mesh, etc. Media storage for DVD's and VCR tapes need to be identified. Speaker locations are important too. Will they be free standing or enclosed within the entertainment center? Electrical outlets also need to be considered.
Installing your new entertainment center. When installing your new entertainment center, Cabinet Innovations will make sure that it is level and securely mounted. All doors and drawers are tested and balanced, and any decorative hardware installed too.
If you are thinking about adding a new entertainment center, you should contact Cabinet Innovations. We will do an initial consultation with you, and then provide our recommendations for your re-design.