Custom Designed Fireplace Surrounds
Cabinet Innovations Designs, Builds & Installs Custom Fireplace Surrounds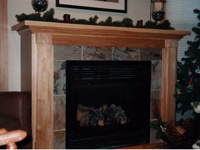 Nothing enhances a fireplace more than a custom designed fireplace surround. A well designed fireplace surround can be done in a style that accents the fireplace and the room's decor. They can be simple or extremely complex in design, and a variety of woods and finishes can be used.
Some fireplace surrounds are used as an additional shelf, and some are designed to house a TV or a painting above it. Whether it is a brand new fireplace to be installed in a new home or addition or an existing fireplace, Cabinet Innovations can work with you to design the perfect fireplace surround. Your ideas and our expertise enable for the design on a custom fireplace surround that is specifically for you.
Fireplace Surround Design and Installation
Planning your new fireplace surround. Preparing the design of a new fireplace surround demands a couple of answers up front. First and foremost, is it an existing fireplace or a new one? If new and not installed yet, do you have access to the dimensions? Once we have those answers, then we can discuss design.
A custom designed fireplace surround can be manufactured from many different types of woods. You can also pick out many different types of stains and finishes too. Other things of note are the size of the shelf, or if you plan on having a cabinet above added.
Installing your new fireplace surround. When your new custom designed fireplace surround is finished and ready to be installed, we will come out and ensure that the finished product meets your expectations. The surround will be securely and professionally installed, and leveled to insure symmetry.
If you are thinking about adding a new custom designed fireplace surround you should contact Cabinet Innovations. We would be happy to work with you on your next project.