Kitchen Cabinet Installation
Cabinet Innovations Professionally Installs All Cabinets We Design And Build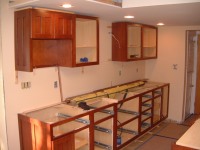 Cabinet Innovations prefers to install all cabinets that we build. With twenty plus years experience building and installing cabinets there is not many scenarios we haven't seen.
Most installations are done in one day and as a client of Cabinet Innovations we understand the importance of scheduling and your time.
Cabinet Innovations will set up an install date for your cabinets at least a week ahead of time and will always show up promptly and do a complete and clean installation job.
Cabinet Innovations will never show up with a partial job-it will be complete when we leave unless a small problem arises and we need to come back.
In addition, Cabinet Innovations will never ask for full payment until the job is 100% done.