Custom Designed Offices & Bookcases
New Office Designs With Custom Designed Bookcases From Cabinet Innovations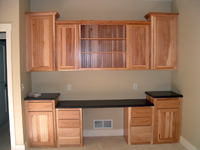 If you ever wanted to have a custom designed office or custom designed bookcases, then Cabinet Innovations is your answer. Over the years we have designed, created and installed many different types of office configurations and built-in bookcases.
We will look at the space you would like to have the office located or the bookcases added, take measurements and draw up a plan for you.
An efficiently designed office will not only enhance the appearance of your room but will provide smart options for file storage, computer components and more. This will eliminate clutter and make your office a great place to get work done in comfort.
Office & Bookcase Design and Installation
Planning your new office and bookcases. Cabinet Innovations will come and look at the area you would like to have your office installed. We will make notes of electrical locations and make any recommendations for new outlets. We will also look at storage options along with cabinet hardware to accent the new office.
For new bookcases, we will measure the area first. After measurements are made, we will draw up a design that uses the space efficiently for you. Wood type, number of shelves and drawers and hardware will be decided on at this stage too.
Installing your new office and bookcases. After your new office or bookcases have been made, we will professionally install them for you. All doors and drawers will be balanced and leveled, and counter tops fit snug and level.
If you are thinking about adding a new custom designed office or bookcases, you should contact Cabinet Innovations. We will do an initial consultation with you, and then provide our recommendations for your re-design.