Kitchen Cabinet Hardware Options
Kitchen Cabinet Hardware Is A Very Important Part Of Cabinets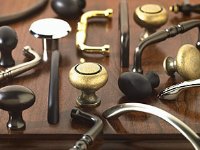 Cabinet Innovations believes that the hardware is the heart of the cabinet and uses only the best hardware available feeling that the cabinets will last much longer with good hardware.
Most hinges are Blum concealed hinges. Drawer slides vary from inexpensive 3/4 extension epoxy slides to full extension ball bearing slides to concealed full extension soft close slides depending on your budget.
Lazy Susan's vary from white to wood shelved, full round, pie cut-out, to half round blind pull out, which gets rid of "the lost corner".
There are so many handles to choose from it's best to go to our hardware links page and click on the HDL link.
What Is Kitchen Cabinet Hardware?
Kitchen cabinet hardware is a very important aspect to the overall design and appearance of your kitchen cabinets. Hardware is also selected for long lasting performance to ensure many years of quality use.
Cabinet hardware includes hinges, slides, handles, knobs and other components that come in hundreds of sizes and designs. Classic, traditional, modern, and transitional styles of knobs and handles will enhance your cabinets physical aspects.
Like many items in the marketplace, the price of kitchen cabinet hardware varies. The price is usually indicative of the quality. Cabinet Innovations will recommend cabinet hardware that will meet your fiscal budget yet at the same time meet or exceed your quality needs.