Custom Designed Kitchens And Cabinets
Cabinet Innovations Designs New Kitchens And Cabinets In Minneapolis MN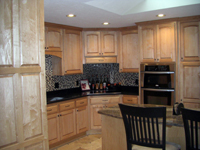 A custom designed kitchen is a major enhancement to any house, whether new construction or re-modeling of an existing kitchen.
Cabinet Innovations has successfully designed, created and installed many kitchens and kitchen cabinets for our satisfied customers.
If you are planning to re-model or you are building a new house, Cabinet Innovations will work with your contractors as needed to ensure a smooth process for you.
We measure, diagram and consult with you on the new kitchen cabinet design that we think will enhance your house.
If you are considering a new kitchen design, then contact Cabinet Innovations today for your free consultation.
Kitchen Design and Installation
Planning your new kitchen cabinets. Cabinet Innovations has designed many new kitchen cabinets for our satisfied customers. We start by doing a site survey, measuring the area where the new kitchen will be or the existing location of the current kitchen. Other things such as plumbing, electrical and ventilation areas will be noted too.
Once we have all the measurements, we will configure a layout for you. Things such as pantries, drawer types, hardware and other important features will be addressed. Also, counter top options will need to be decided on.
Installing your new kitchen cabinets. Once wood types, patterns of cabinet fronts, drawer type and decorative hardware, and counter top is decided upon, we will create and then install your new custom kitchen cabinets. After they have been mounted, we adjust every door and drawer to make sure they are level and open freely.
If you are thinking about re-modeling your kitchen, you should contact Cabinet Innovations. We have a long history of happy and satisfied customers who have chosen us for their custom kitchen cabinet design and installation.